Aug 18, 2010
12,376
8,883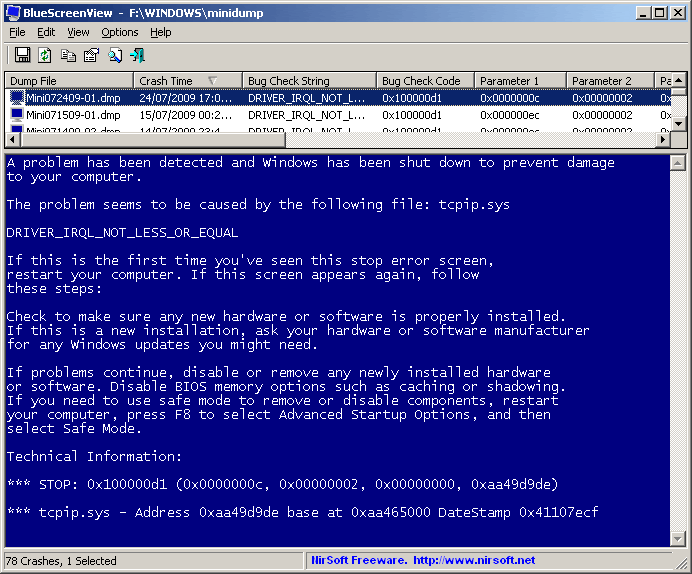 Homepage:
Displays information about blue screen crashes occured on your system. (MiniDump Reader)
Description:
If you've used Windows for any length of time, chances are you'e seen a Blue Screen of Death. you're lucky when it's only a bad driver and your system reboots politely. When you're unlucky, it could be something more serious, such as a hardware failure. Either way, it's a sign of system instability. Unfortunately, a BSOD is usually cryptic. Factor in the fact that Windows usually reboots itself automatically within a short period of time "with no assurance that you won't get the same error "and you can see the need for BlueScreenView.
BlueScreenView is a small utility that will scan all your minidump files created during a blue screen of death crashes, and then display the information about all crashes in one table. For each crash, BlueScreenView displays the minidump filename, the date/time of the crash, the basic crash information displayed in the blue screen (Bug Check Code and 4 parameters), and the details of the driver or module that possibly caused the crash (filename, product name, file description, and file version).
Features of BlueScreenView
· Automatically scans your current minidump folder and displays the list of all crash dumps, including crash dump date/time and crash details.
· Allows you to view a blue screen which is very similar to the one the Windows displayed during the crash.
· BlueScreenView enumerates the memory addresses inside the stack of the crash, and find all drivers/modules that might be involved in the crash.
· BlueScreenView also allows you to work with another instance of Windows, simply by choosing the right minidump folder (In Advanced Options).
· BlueScreenView automatically locate the drivers appeared in the crash dump, and extract their version resource information, including product name, file version, company, and file description.
File Size:
Download Links:
Code:
http://www.nirsoft.net/utils/bluescreenview.zip
Last edited: