Jan 22, 2016
43
7
OS

Windows 10
BR

Firefox 85.0
Hello,
I hit up Apple support with this one and they brushed me off/passed the buck with a "contact Microsoft because it's on Windows" type of unacceptable answer.
I use the iCloud control panel on my Win10 Pro laptop because I have a 6th gen iPad and an iPhone 8+ and additionally use Outlook (full program) for my email and calendar between the three devices.
That being said, I have an entry on my Windows for iCloud Drive with iCloud Photos. In my particular case the installation has gone wonky and left me with an installation that is like iCloud with iCloud Photos on crack. Here's what I mean: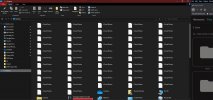 All of those entries point to the same exact folder. All the folders indicate they are empty except for the first entry which goes to the correct functional folder. I cannot delete any of the "ghost folders on crack" and when I right click on the "desktop" icon which is NOT the normal correct Windows User's Desktop folder (it too is also a phantom on crack) the control panel for the Windows Desktop opens and I cannot delete that item either. The delete button does nothing and right click doesn't offer a delete command and the delete at the top of the window as you can see is grayed out and inaccessible.
I have uninstalled and reinstalled iCloud a few times and even made certain I have the most recent version. I cannot come up with anything else myself to troubleshoot and fix this problem. It is driving me nutz. Has anyone seen this before and if yes, have you been able to fix it and how did you fix it?
All help appreciated.
Sincerely,
Wonder Woman