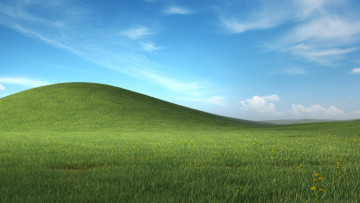 Windows XP's Bliss might be among the most-seen images on the planet as it was the default desktop wallpaper on the operating system released in 2001. Bliss is an unedited photograph featuring a blue sky and a green hill located in California's Los Carneros. It
was captured
by American photographer Charles O'Rear in January 1996 using a Mamiya RZ67 camera and Microsoft bought its rights in the year 2000.
The resolution of the original Bliss wallpaper may not be high enough to fill modern-day screens. But there is a 4K render of the popular Windows XP wallpaper, spotted by Ars Technica, that you can download at full resolution from the Microsoft Design website using our website
You can find many other high-quality wallpapers created by Microsoft's design team showcasing modern design, scenic views, and nostalgic scenes. For instance, there are retro-themed wallpapers featuring the old Paint app and the discontinued office assistant Clippy. There is now a modern successor to Clippy known as Microsoft 365 Copilot that uses OpenAI's GPT-4 large language model to generate relevant content based on user prompts.
The support for Windows XP was discontinued almost a decade ago in 2014 but it still runs on a small fraction of devices. Its activation algorithm was cracked after 21 years, allowing users to activate the operating system offline. While users have celebrated organic wallpapers, the recent flood of generative AI tools has resulted in some artificial tinkering as well. For instance, an AI tool was used to add some extra landscape to the Bliss wallpaper.
While Windows XP is old technology now, determined enthusiasts are trying to make sure it isn't deprived of the latest offerings. A developer who goes by the name "FrankCYB" created a version of ChatGPT that can run on vintage operating systems such as Windows XP, Windows 2000, and even Windows 95. Curious minds have even tried to boot Windows XP on a 1MHz Intel Pentium CPU and find out how much time it takes to boot up.