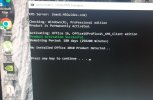 Downloaded a windows from microsoft web site, and made a bootable flash, when installing a windows everything work nice, but I know that is a trial version of the system, and when I want to crack with KMS I get message that the windows is permanently active, there is no logic because I dont have a license windows ...
Mu question is: does I have to Install a cracked version of windows from torrent ? Thanks for answers!
Dont want to wait for 30 days and then everything install again ...